Click on any title or color below to view the listings with descriptions and payment options. All fabrics include FREE shipping to the 48 contiguous states. International shipping available upon request.
Any questions? Please contact us.
1000D Invista Grade
CORDURA® Coated Nylon
Heavy Duty, Waterproof fabric great for Indoor/Outdoor applications
Mixed color 60"W Cordura© "Seconds"
8 yard packages available.
Mixed color Cordura© and Black Polyester.
15 and 30 yard packages available.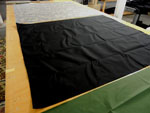 500D Invista Grade
CORDURA® Coated Nylon
Ballistic 1050D Invista Grade
CORDURA® Coated Nylon
1000D or 500D Invista Grade
CORDURA® Uncoated Nylon