Welcome to peaksOnLine.net!
NOTE: New Lumber, Steel, and Machinery Tarps are currently NOT available for purchase, due to curcumstances in our Tarp manufacturing shop. The only large Truck Tarps available are the ones we have IN STOCK (see below).

Small Utility Tarps, Curtains and Fabric, however, continue to be available.
Thank you for visiting peaksOnLine.net, the online store and website for Peaks Tarps Company. Our factory is New England based in Clinton, Massachusetts, where we manufacture and provide:
Unique lightweight tarps for the Flatbed and Hot Shot Trucking Industry made from Cordura© Brand Nylon from Invista©.
Flat & custom tarps, covers, and canopies.
Curtains and industrial dividers for various uses.
Cordura© Brand fabric by the yard.
Our most popular products can be purchased through this website securely using any major credit card or PayPal. Flat rate UPS shipping charges are provided which are valid for the 48 contiguous US states. Please note, you do NOT need a PayPal account to purchase products on this site. Paypal is our secure credit card processing provider, so after checkout simply click on "Don't have a PayPal account" to pay with a credit card.
Please make sure to click on various icons and definitions throughout the site for detailed drawings, descriptions, photos, and videos. Let us know how we can help you. Thank You!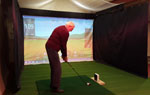 Our stage curtains make excellent Side Panels for Golf Simulators!
We have provided these industrial polyester curtains to many folks running Golf Simulators.

Click HERE for information and pricing.