Curtain Hanging Track System
with Ball Carriers and Screws, PVC Extruded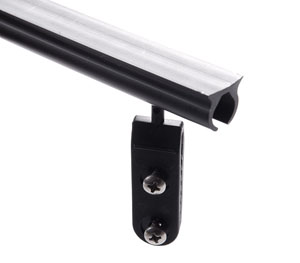 This is a great economical Curtain Hanging Track System for straight curtain hanging or for twisting around corners. It can be steam-heated if necessary to bend at tighter angles. Easy to cut with a hacksaw. Drill holes every 12 inches through the center of the track, with at least one hole next to each end of the track. Screw down the track to secure, using the provided special flathead screws.
You specify how many feet of rail you want in the Quantity field, and the railing will be provided with an initial Ball Carrier, plus an additional carrier per every foot of railing ordered. For instance, an order of 15 feet of rail will include 16 ball carriers. These ball carriers fit right into the groove of the rail and slide easily, allowing you to open and close your curtain(s) or move them off to the side. To attach the ball carriers to your curtain, sandwich the hemmed curtain fabric between the jaws on the carrier. Tighten the two included screws through the fabric and into the opposite side of the carrier. Place carriers every 12 inches along the top of your curtain, corner to corner.
For the railing, you will be provided with one initial screw, plus an additional screw per foot ordered, plus an additional screw for each area where the track ends will join together. For instance, an order of 15 feet of rail (provided as two 7'6" pieces) will include 17 total screws (1 + 15 + 1 = 17). These are special flathead screws (4 x 6 x 3/4") requiring a square-head screwdriver, that will not inhibit the rail from working properly as they fit flush within the track. Using generic or other type screws will cause problems, and possibly block the ball carrier from moving freely within the track.
If you will be ordering this Track System simultaneously with one or more of our Stage Curtains, we will install the Ball Carriers onto the curtain(s) at no charge! - but we will omit the grommets and the webbing on the hem. Please note that the Ball Carriers fit best over the top hem without webbing, as the webbing makes it too thick. (Still possible if you already have our curtain with the webbing hem, but the clamps on the carriers will bow out slightly).
After installation, the distance from the ceiling (or surface that the track is mounted to), to the top edge of the curtain, will be 1 inch.
Instruction/installation manual not included.
Maximum tube shipping length (after packaged): 8 feet. The max rail length for any single piece is 7'6". For instance, if you order 12 feet of rail, you might get a 7'6" (or 90") section and a 4'6" (or 54") section. Or, it may be two 6' sections. (Whatever is in stock at the time of your order).
FREE SHIPPING to USA continental 48 states. There will be a surcharge for shipping to Alaska, Hawaii and Puerto Rico. International shipping is available, please contact us for a quote.
NOTE: A quantity of 1 will only get you 1 foot of rail, not an entire 7'6" length of rail. Please enter the NUMBER OF FEET you want in the QUANTITY FIELD during Paypal checkout. Any orders of 7 feet or less will incur a shipping surcharge of $25.00. This surcharge will not be automatically deducted at the point of order, but will be requested separately prior to your order shipping out.
Curtain Hanging Track System with Ball Carriers and Screws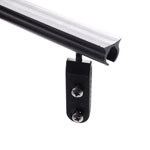 Track and carriers are made from Extruded PVC
Color: Black (rail and carriers)
Rail Outside Measurements: 5/8" x 5/8"
Rail Inside Width: 3/8"
Ball Carrier Overall Length: 2.5"
Ball Carrier Width: 0.628"

The picture shows a portion of rail with a ball carrier.
Price: $9.00 per foot


After clicking the "Add to Cart" button, in the Paypal checkout, put the number of feet you want into the Quantity field.